The Rev. Rebecca Segers: Pastor and Head of Staff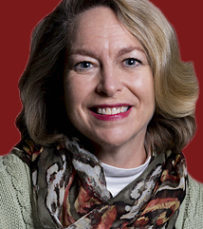 I was raised in a military family with a mother who loved theater, so the only music in our house was John Philip Sousa marches and Broadway musicals, heard on long-playing vinyl discs spun on a turntable inside a huge decorative piece of wood furniture that my mother still has sitting in her living room in Arkansas.
Perhaps because of my Army brat heritage, moving from town to town every few months or years, I loved the song "Getting to Know You" from The King and I. There are lyrics from it that keep coming to me as I prepare to move to Germantown: "Getting to know you, getting to know all about you; Getting to like you; getting to hope you like me. Haven't you noticed, suddenly I'm bright and breezy? Because of all the beautiful and new, Things I'm learning about you, Day by day."
I am so looking forward to getting to know each and every one of you! My favorite theological conundrum is the Trinity: God in relationship with Godself longing to be in relationship with us. I long not only to continue my own personal faith journey, but to
be in relationship with you, as we travel that path together.