John Walthausen: Director of Music Ministry
[email protected]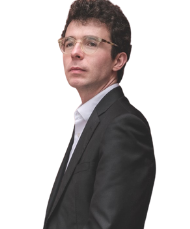 John is a sought-after organ and harpsichord soloist and ensemble artist with an expanding worldwide performance career. Accomplished as a recitalist in both Baroque literature and contemporary keyboard works, he has been heard in concert throughout Europe in Paris, Chartres, Poitiers, Toulouse, Hamburg, Milan, Treviso, Innsbruck, Basel, and Zurich. From 2015 to 2016, he served as Organist in Residence at Sapporo Concert Hall in Hokkaido, where he performed and recorded on the Hall's four-manual organ by Alfred Kern and in cities across Japan.
John is a collaborative artist who plays frequently in his home city of Philadelphia, as well as throughout the East Coast and the Mid-Atlantic region. He has recently appeared as a continuo player with ensembles such as the Washington Bach Consort, New York Baroque, Barock Band, and Variant 6.
In 2012, he won first prize at the Pierre de Manchicourt International Organ Competition in Béthune, France, a competition devoted particularly to North German music of the seventeenth and eighteenth centuries, featuring an international jury chaired by Michael Radelescu. In 2009, he was awarded first prize in the American Guild of Organists' Regional Competition for Young Organists.
Most recently, John has served as Organist and Choirmaster at St. Andrew's Episcopal Church in Glenmoore, Pennsylvania. There, he has been responsible for building and directing the adult choir, collaborating with children's and youth ministries for special projects, and creating a spring chamber music concert series. In concert with the vestry (the Episcopalian version of the session), John applied for and received a grant from the Russel P. and Elizabeth Crimian Heuer Foundation, putting together a community-wide task force to raise money for a Choral Scholars Program. Through this initiative, they hired students from West Chester University and young professionals to work as section leaders while offering them a high-quality formation in stylistic sacred choral technique, both broadening the appeal and the outreach of the choir. Additionally, in the time of the COVID19 pandemic, John initiated gatherings to keep the choir communities connected, as well mobilized his Choral Scholars to provide virtual recordings for online worship.
Prior to this, John acted as Assistant Director of Music at the Cathedral Choir School of Wilmington, Delaware, a choral music non-profit that serves primarily students in Title I Schools. There he developed choral singing and musicianship curricula while auditioning and managing a team of young professional choral scholars and planning, fundraising, and marketing a concert schedule of 40 performances per year. The training they offered was rooted in the classical tradition, but also gave pride of place to classic and contemporary choral settings of spirituals as well as gospel and music from global traditions.
Finally, John brings not only a level of expertise and musicianship which the First Presbyterian Church in Germantown values, but also has a deep commitment to service and community that connects with our church identity. As he wrote in his cover letter to the search committee: "At First Presbyterian, I look forward to working towards the congregation's mission of bringing together the finest possible music and worship in a true spirit of service. Faith has been the strongest motivating force in my life's dedication to music, and as a lifelong church member, I bring a faith-based approach to my mission, not just as a musician, but to my life as a colleague, neighbor and global citizen."