Welcome!
The First Presbyterian Church in Germantown is an inclusive, caring, and celebratory urban congregation!
We truly are a diverse congregation. We have members representing every inhabited continent on the planet, and mirror the diversity of the City of Philadelphia in every way: demographically, socially, economically, and theologically/spiritually. No matter where you are on your faith journey, there is a place for you at First Pres. We welcome seekers and sinners and saints, and every other manner of human being on God's green earth. Our hope is that you find hope and love and justice and mercy and forgiveness and freedom in God in Jesus Christ with us, as we all learn and share and grow together on our individual faith journeys.
Worship Services – Every Sunday Morning at 10:00 a.m.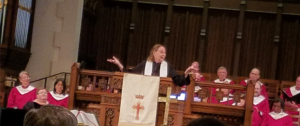 Every Sunday morning, we come together in the beautiful historic sanctuary to sing, pray, praise, and listen to an inspiring Word preached.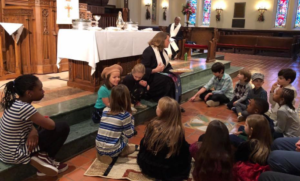 Our services regularly include a Time for Children once the first scripture is read, after which the young people are adjourned to their Sunday School classes. Post-worship, we have a time of fellowship in the Longstreth Auditorium, during which we can meet new friends and catch up with those we already know.
Every 5th Sunday of the Year (March, June, September, & December in 2019) at 5:00 p.m.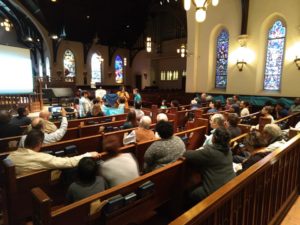 Four times a year, we celebrate worship in the east transept of the sanctuary in a less traditional fashion. We sing with support from a praise ensemble and lead vocalists, use video, dance, and other creative means to connect with God in new and different ways.
Worship is just the beginning of our connection to God! First Pres has service, outreach, fellowship, Christian formation and education, and many other opportunities to enrich and enliven your faith journey. We can't wait to share them with you!