Rejoice!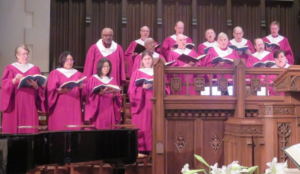 Worship is at the center of who we are as God's people, and the First Presbyterian Church in Germantown engages with God's presence through a variety of artistic expressions. We sing praises as a congregation, but also through diverse musical offerings: a traditional Chancel Choir which sings virtually every Sunday from September through May; a Gospel Choir which sings on the first Sundays of the month from September through May; a Children's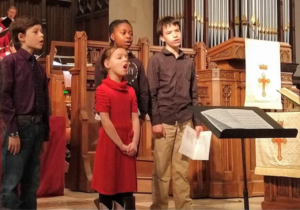 Choir and a Handbell Choir that regularly participate in worship; and a Praise & Worship ensemble featuring guitars and lead vocalists who lead our 5th @ 5:00 worship services. Click here to learn more about our musical opportunities and how you might participate in them.
Additionally, we celebrate the Lord through liturgical dance periodically. These always beautiful and sometimes interactive ways to praise God are not scheduled on a regular basis, but occur when the Spirit moves. If you would like to use your whole body to praise the Lord in an upcoming service, please speak with Rev. Rebecca Segers or email her at [email protected].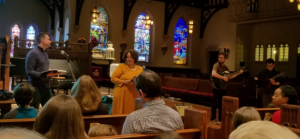 Last, but certainly not least, the arts are a vital part of our connection to God in Christ. When we act in creative ways, we become closer to our Creator God. Every 5th Sunday, we incorporate an arts orientation into worship with video, theater, and sanctuary decoration. On special services, such as World Communion Sunday, Maundy Thursday, Good Friday, and Holy Saturday, we may include languages other than English, theatrical presentations, or different musical stylings, such as Taize. We host Bread and Cup twice a year, which invites congregants and others from the community to share their gifts musically, through poetry, or other written word media, and in other creative ways.
We hope that you will join us in worshiping the Lord in a variety of creative and powerful ways!