Inspire!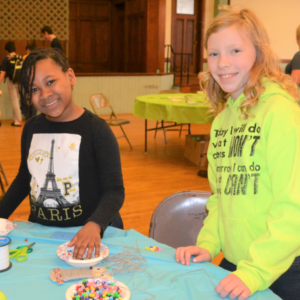 Our Christian education program includes classes and activities for all ages. Children and youth are valued and offered a variety of opportunities to discover and share their gifts. Call Christian Heyer-Rivera at (215) 843-8811, ext 18, for more information.
Want to be part of the Christian Education Committee? We meet on the 2nd Wednesday of the month. Contact Christian Heyer-Rivera at (215) 843-8811 ext 18 for more information.
Middle School Youth (Grades 5‑8):
Plan now to join us every Sunday from 11:30‑12:30 p.m. for a class that will surely help to increase your faith and your understanding of the Bible while having fun and meeting new friends! We are using the Middle School Akaloo curriculum series for this class.
Tuesday Night Fellowship (year round): Come share dinner together, play games, participate in fun activities, and learn and grow in our relationship with each other and with Christ! We meet the first and third Tuesday of every month. We gather at 6:30 p.m. and end at 8:30 p.m.
Senior High (Grade 9‑12):
Dig deeper into matters of faith and explore the Bible in an environment where your questions are welcomed and your growth as a person is encouraged. Every Sunday we meet from 11:30-12:30 p.m., right after Sunday worship service. The Senior High Akaloo curriculum will be utilized in this class.
Friday Night Youth Group (year round):Come be a part of a group that takes fun, friendship and faith seriously. With lock‑ins, games, retreats, relevant biblical lessons, and a mission trip in store for the coming year, this is the type of fun and opportunity to grow in your faith that you don't want to miss! Join us every second and fourth Friday of the month from 6:30-to 10:00 p.m.
Service‑Learning Events (Every other month on a Saturday, year round):
Every other month on a Saturday we will be take our faith to the streets and live it out by serving at different ministries throughout the city. Home construction, nature park upkeep, fund raising for the alleviation of hunger, and working with a homeless shelter will be some of the opportunities that we will have to love God and others through our actions this year.
Outreach Events (Every other month on a Saturday, year round):
When we are not serving in our community, we take a Saturday to participate in a fun event designed to allow young people to invite friends and share a memorable outing together. Past events have included going to amusement parks, mini golfing, snow tubing, picnics, movie theaters, etc.
Sunday School:
Church school for children in pre-school through sixth grade begin at 10 a.m. as youngsters join the congregation for worship. At 10:15 they leave the sanctuary for their classrooms where they learn Bible stories and have musical instruction. Junior and senior high youth meet on Sunday mornings following worship for Bible study.
To learn more about our Christian Education programs, please contact Christian Heyer-Rivera.