Basketball Teams
Need a basketball team to play with? Want to learn more and develop your game?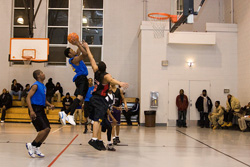 The First Presbyterian church currently has two basketball teams that practice weekly and play in organized leagues throughout the northwest region of Philadelphia. The twenty-two years old and under men's team that has existed as a program for over three years, and an eighteen years old and under men's team, the Disciples, has existed as a program for over eight years.
The Basketball Teams of The First Presbyterian Church in Germantown serve to provide young people with an outlet for quality relationships with caring adults. The programs teach leadership, cooperation, physical and mental discipline, personal self-control and responsibility through the concept of teamwork and team identity. Each player's personal growth and maturity are fostered through mentorship, community service opportunities and relational accountability.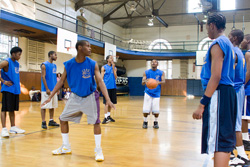 Be a part of a team that practices regularly, plays scheduled games in a league, and explores what it means to have faith in Jesus Christ.
Call Christian Heyer‑ Rivera for more information at 215.843.8811 ext.18 to get connected with Coach Chris Scott, or  Coach Melvin Brown.
Note from Coach Chris:
We need volunteers for every Disciple's game. Don't miss out on the action. If you wanna help, check your calender and let me know what game(s) you are interested in.
We just need people to help sell refreshments, keep score, or manage the time. The team is working hard to and it's going to be a great season!
To learn more about our basketball teams, please contact Christian Heyer-Rivera: [email protected]