Overview
History of our Building:
Under the leadership of the Rev. J. Frederick Dripps (Pastor 1870-80) our Church sold its Germantown Avenue property and established itself at our present location, with the construction of a new house of worship.
During the pastorate of the Rev. Charles Wood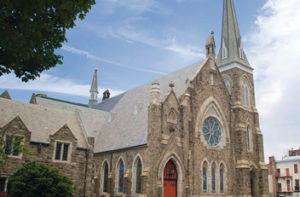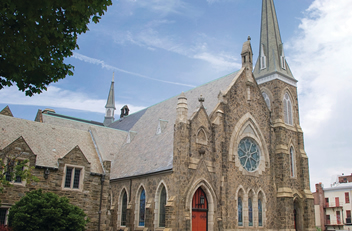 (Pastor 1886-97) our membership passed the 1,000 line and grew so rapidly that an enlargement of the church auditorium became necessary. In 1888 the West Transept was built followed by the East Transept in 1892 to further accommodate the growing needs of the Church.
The church, currently situated in the heart of the retail district on Chelten Avenue, provides the area with a building of considerable historic and architectural significance. The building contains Tiffany and Henry Lee Willet stained glass windows and an exceptional collection of murals by Violet Oakley. Oakley's work also adorns the Capitol Building in Harrisburg.
First Church is one of the best preserved religious buildings in the area and both its interior and exterior appearance make a strong statement of commitment to the physical well-being and dignity of central Germantown.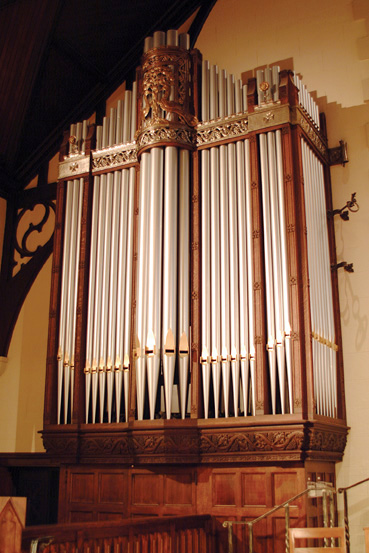 A major renovation of the sanctuary was completed in 1998. The new design maintains the historical integrity of the building while greatly enhancing it as a warm and hospitable space for worship and concerts. The McLean Memorial Pipe Organ serves as the nucleus of our music program.
It is clear that many people worshipping in our church are greatly comforted by the beauty and strength of the building and find that it serves as a sacrament of hope for the future. The continuing presence of First Church as a solid and active faith community is a buttress against urban decline and despondency and provides an institution that offers care giving and stability to an area in a state of flux.